Cruise Deals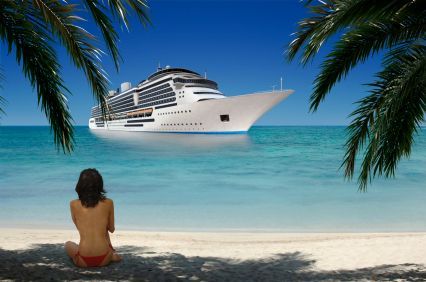 Best Cruise Deal and Discount Cruise Deals
If you're looking for a memorable, fantastic vacation, an option to look into is taking a cruise. You can cruise to places all around the world, and go for a short time or a long time, depending on what you are looking for. Cruises can be fun for all ages and great for all occasions. There are plenty of things to do both on the cruise ship and off of the ship while in port, and the best part is that there are plenty of cruise deals out there so that you can get a discount cruise at a price that works for you.
Last Minute Deals
One option if you're looking for a real deal is to keep your eyes peeled for a last minute cruise. Cruise ships like to sell out their rooms and sail when they are at full capacity, so if they are getting close to the sailing date and don't have all of the rooms booked yet, they will start advertising lower prices and great deals. This is especially true during some of the off-season months, such as during the winter, when people might not be traveling as much. These last minute cruise deals often offer discount prices, or you can find a deal that offers some other sort of incentive, such as on-board ship credit that can be used to purchase anything while on the cruise ship, or a free upgrade to a better room.
Where You Are Going and When
There are a variety of ports & destinations to choose from when you select your cruise, and keep in mind that where you decide to travel will affect how much you pay. Some of the more popular destinations may seem more expensive when you are first looking for a cruise, but when you look for deals or last minute cruises you can often find Hawaii cruise deals or Alaskan cruise deals for less than what you originally anticipated.
Also, be aware of where you are sailing from. Many cruises leave from Miami, Florida, but not all of them do. Depending on where you live you might be able to find a departure port that is closer to you, even within driving distance. If Miami is in driving distance that is very convenient, but it's not the case for everyone. So if you're booking a cruise that leaves from Miami and you don't live close enough to drive, keep in mind that you will also have to factor in the cost of a flight to and from Miami in your price comparison as well.
Time of year certainly matters as well. You can get much better deals during the off months than you can in the middle of the summer. If you're in college popular options to consider are spring break cruises, which are sailing during the months that colleges have off from classes. These cruises sometimes offer lower rates or deals because they know that their target audience is college students, who may not have a lot of money to spend on a vacation. Even if you're not a college student you can snag a deal on a spring break cruise, as long as you don't mind cruising with lots of college students.
The length of your cruise will also affect how much money it costs. 7-night cruises are often considered the norm, because they provide you with a full week of cruising and vacation time. However, you can also find cruises that are much longer or shorter. You can find cruises that are as short as three or four days, stopping at just one or two places, or even a "cruise to nowhere," when you stay on the ship the whole time and get off again at the port where you started. The shorter the cruise the less money it will cost per person, but keep in mind that it might not mean you are getting the best deal per day. Often the longer cruises will actually cost less per day per person, though it ends up being more total overall because it's more days. Make sure you not only look at the prices of each cruise per person, but also at the price per day so you can see if you are getting your money's worth.
Carnival Cruise Deals
Carnival cruise line is a very affordable cruise line to look into that offers great service and vacations at low prices. In addition to many of the above mentioned deals, Carnival offers lots of cruise specials, deals and incentives throughout the year on their website. They have a special "Early Saver" option for people planning way in advance, as well as savings for older people or those in the military. Carnival will also offer deals on specific destinations or ships at certain points during the year.
Another thing that Carnival and many of the other cruise lines do is to offer a "past guest" discount. That means that if you've sailed on that cruise line before, you may be eligible for a lower rate on a room. Sometimes this can be a savings of hundreds of dollars, so it can pay off to stick with the same cruise line that you've used before. This past guest rate is sometimes only offered on certain types of rooms, but it can make a balcony room cost the same as a regular room, so it's a good deal to take advantage of.
Using a Travel Agent
Sometimes working with a travel agent when looking at cruise ships can greatly help you. Travel agents are trained to stay up to date on all of the latest deals, so they can save you a lot of time because they will already be familiar with the best rates out there. In addition, travel agents sometimes have their own deals worked out with certain cruise lines, so they can get you a lower rate on a cruise that you wouldn't be able to find on your own.
Cruise Packages
Many cruise lines offer cruise packages, which include lots of extras. When you book a cruise it usually includes a fee that pays for the room you stay in, entertainment, and all of your meals. However, there are lots of extra things that you can pay for, and many cruise lines offer all inclusive cruise deals that include some of these extras. They may be things like the shore excursions that you can take when you arrive at your destination, such as a snorkeling trip or swimming with the dolphins, or they may include alcoholic beverages, which usually cost extra on a cruise.
Theme Cruises
There are also theme cruises, which can sometimes be really good deals because you get more than you would on a regular cruise. For instance, if you go one of the music cruises, they might have a variety of performers that they wouldn't normally have. Sometimes they will have specific music genres, so you can go on a rock n' roll cruise or a country cruise. There are also theme cruises for other things too, such as hobbies like a scrapbooking cruise or even a knitting cruise.
Deals On Board the Ship
Once you get on the cruise, there are a number of ship activities that you can take part in. There is never a shortage of food, and you'll find so many options all around the ship. Whether you're looking to take in a formal, sit-down meal, or just want to grab a quick bite, you'll have a variety of choices. You can also get food at almost any hour of the day - even from the comfort of your own room, where you can order room service! Many ships also offer food that is available 24/7, such as pizza, ice cream, and coffee.
There are also some cruise offers available on board the ship. You can take advantage of lots of the contests and games on board to try and win prizes, which may include things like a meal in the higher-end restaurant, a bottle of champagne, or even another free cruise. In addition, often when you are on board the cruise you will be able to find deals for future cruises if you can commit to one then and there. Once you are on the ship they will offer you lower rates for future sailings.
Also be on the lookout for deals when you are in port. You can order excursions through the cruise line, which may often be the best deal, or you can try and arrange something on your own. If you are interested in shopping while you are in port, many of the cruise lines offer shopping talks, where they give you advice on the best places to get deals in the stores in that area. Many of these talks also give out free coupons, which give you discounts at the stores or are coupons that can even be exchanged for free items at no extra cost to you.