Home Maintenance - Improvement and Repairs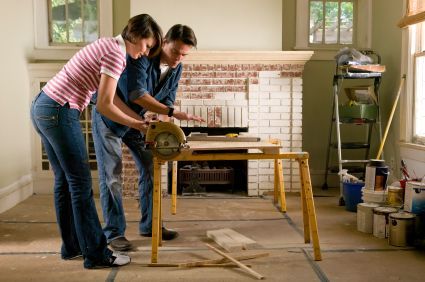 Home renovations and remodeling will keep the homeowner from having hefty bills from repairs that were ignored
Owning a home is a major investment, probably the largest investment a person will make. In order to keep the home looking nice, and maintaining good resale value, regular home maintenance is critical. Staying on top of home repairs and home renovations will keep the homeowner from having hefty bills from repairs that were ignored.
Home Maintenance
The smart homeowner understands that regular home maintenance is the best way to prevent major problems from occurring. Using preventive measures saves money in the long run. Setting a schedule of maintenance is the best way to manage keeping the home in good repair. Many items can be accomplished by the homeowner if he or she is the do it yourself handyman. Other maintenance items may require handyman services.
A preventive schedule of seasonal maintenance should include:
Fall Maintenance
•Clean out all gutters and rainspouts
•Have a professional chimney sweep service the chimney
•Check the home for any water leaks
•Have the Air conditioning and heater system checked and cleaned
•Check and replace any caulking around doors and windows, as well as around bathroom fixtures
•Run gas-powered outdoor equipment to make sure fuel is gone
•Clean exhaust ducts on clothes dryer
Winter Maintenance
•Insulate the pipes in the home, including wrapping the water heater in insulation
•Remove the window screens and install storm window in the home
•Check the attic ventilation and kitchen exhaust hood
•Check all the hoses on appliances, including washers, dishwasher, refrigerator to ensure they are in good repair
•Clean the exhaust ducts on clothes dryer
•Test ground-fault-circuit-interrupter outlets
•Check holiday decoration lights
•Store any firewood at least 30 feet from the house.
Spring Maintenance
•Have the air conditioner inspected by professional air conditioning contractor
•Check for any damage to the roof after winter winds and snow
•Check the water heater
•Repair any driveway or sidewalk damage
•Clean the exhaust ducts on clothes dryer
•Check shutoff valves on plumbing
•Replace storm windows with window screens
Summer Maintenance
•Check the deck or patio for cleaning and repairs
•Check exterior of the house for any damage or wear
•Make sure all door and window locks are working properly
•Check home for any water leaks
•Check hoses to all appliances
With this schedule of maintenance it is easy to do it yourself. Making it a habit to check the house for small home repair problems will prevent large problems for occurring.
Home Improvement
Nothing lasts forever. And that includes homes. Home improvement will not only increase the value of the home, but will resolve issues that could become damaging to the home. Home remodeling becomes necessary if fixtures, plumbing or electrical wiring are old and become dangerous.
Before starting any home improvement it is a good idea to meet with a home improvement contractor or home improvement builder, depending on the level of improvements being considered. These professionals can help guide the direction of the home renovations depending on desired outcomes. If the home improvements are substantial a home improvement loan may be required. For major home renovations, home improvement loans may be the smart way to finance the home renovations rather than using personal savings.
When it is time to set up a meeting with a banker when considering a home improvement loan, it is a good idea to have a contractor or builder detail and price the home renovation. This will help the banker work with the home owner on understanding the home improvement loan request. The banker may be aware of quality contractors that can also bid on the project before the home owner settles on any home improvement loans.
Often different city improvement programs have home improvement grants available. These are generally in areas undergoing gentrification or area improvement. Some of the home improvement grants have income guidelines, and some home improvement grants are for rehabilitating homes in distressed neighborhoods. It never hurts to research to see what monies are available. The community Economic Development Office is a good place to start when researching grants.
By having an honest and open conversation with the home improvement contractor, it might reveal which home repairs can be handled by handyman services, or which projects can be a do it yourself job with the help from friends. The goal is to handle the home repair with the least amount of expense, while ensuring that the home repairs add value to the home.
Managing Home Repairs or Improvements
Not many homeowners have information at their fingertips about home improvements. This is where researching information could mean the difference between being safe or sorry. It is important to start asking around and finding all the information possible about the home remodeling, a home improvement contractor, home improvement builders, and even general handyman services. Even though all of these services generally depend on referrals, check references carefully, as well as the Better Business Bureau ratings.
Make sure that contractors provide up-to-date business licenses and insurance. If possible, ask to see work in progress and talk to the homeowner. Also ask about any warranties on the work. A reputable contractor should have no problems with ensuring their work. Make sure the contractor pulls all county-required work permits before beginning any jobs.
A good place to start on projects is by watching the home improvement TV show networks. Watching a home improvement TV show will provide great ideas on what to do and how to start different projects. The TV handyman may make the home renovation job seem easy, but remember they are experts and a lot of the grunt work is not shown on the home improvement show. Tape the show with ideas that would work, and give it to the home improvement builders to see if the idea is feasible.
There are home improvement TV show ideas that can be accessed from the computer. There may be just one or two aspects of the home remodeling show that can be reviewed with the contractor.
Another good, reliable place to get maintenance and home renovation advice is the local home improvement store. Many of these big box stores have sample home improvement ideas, and some even have their own home improvement show that can be viewed either online or in the store. They have experts on hand to answer any questions about home projects, and many of the stores have workshops and classes pertaining to specific home projects.
Some home improvement stores specialize in kitchens, bathrooms, tile, flooring, or landscaping. These specialized home improvement stores generally have a list of qualified contractors that they work with and will refer. Using a referral from one of these stores is generally safe since the contractor often relies on these referrals. They want to do a good job to keep the customer satisfied.
Improving Resale Value
If considering renovations to improve resale value of the home, it is good to check with realtors before taking out home improvement loans. The realtor expert can advise on what types of renovations actually add value to the home. For example, it may not pay to add a family room if home buyers are not interested in family rooms in the area where the house is located. If house values are low, the money spent on the renovation or remodeling may not be retrieved in the selling price of the home. It may be better to put money towards regular maintenance projects to ensure that the house shows well.
If a house is kept in good repair, and the appliances are updated, then a home should sell well. The outside of the home is as important as the inside, so maintaining landscaping and outside appeal is important. High-rated energy efficient windows always pay off in a home. With energy prices increasing and heating bills soaring, potential home buyers are interested in purchasing energy efficient homes.
Maintaining the Home
It is always a good idea to protect the investment that is made when purchasing a home. It is not necessary to be an expert at home repairs, nor should it be expensive. The first time the plumber comes to fix the leaky faucet or toilet, watch what they do. It is probably something that can be tackled by the homeowner next time around. Befriend people with tool boxes. Take a friend out for a nice dinner if they agree to help with a project around the house.
Hang around the local independent hardware stores and ask lots of questions. The people who work in the local hardware stores are usually very knowledgeable and willing to help. Costs may be a bit higher than the big box stores, but quality is often better and the staff is generally informed about basic home projects and repairs.
There are also good do-it-yourself project books that provide step-by-step instructions, with pictures, on how to fix just about anything around the house. Local community colleges or community centers often have home project classes, even classes especially geared towards women homeowners. They teach basic plumbing, electricity, dry-walling, and painting techniques at a relatively inexpensive cost.