Looking to Eating Out at a Miami Restaurant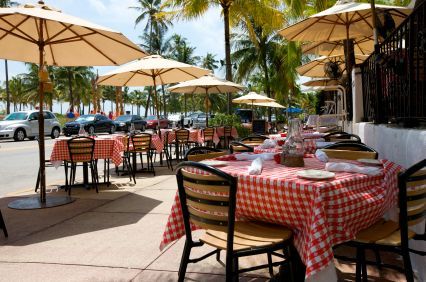 Find many Miami Restaurants choices
Miami is home to a staggering amount of restaurants and eateries and you could eat somewhere different every day of the month and you still will not have scratched the surface. Miami has a large immigrant population and their culture and food is an integral part of day to day life and has a great influence on people's diets. If you are open to trying new things keep your eyes open as you will find some of the best food served in some of the most out of the way places.
There is a restaurant for every budget and occasion. Whether you are looking for a place to entertain business clients, have a romantic dinner or a great family meal you will find, and enjoy, the selection in Miami.
Of course there are the usual establishments available in every town in America such as Chili's, Taco Bell, McDonalds and Hooters, but Miami has much, much more to offer and the restaurants we have listed have been chosen for their different and enticing qualities.
The following list is loosely arranged around the Miami Restaurants locations in which the restaurants are located, although you will find that wherever you are in Miami-Dade County, you are never far from a restaurant!
Miami Restaurants:
News Café
800 Ocean Drive
www.newscafe.com
The News Café is located on one of the trendiest stretches of Miami Beach. Open 24 hours a day, it is an ideal place to sit and people watch or alternatively you can pass the time reading one of an enormous selection of international newspapers and magazines that are available. The menu contains a wide variety of dishes including: burgers, bagels, pasta dishes, pizzas, soups, sandwiches and a selection of Middle Eastern dishes.
China Grill
404 Washington Avenue
www.chinagrillmgt.com
China Grill is an elegant restaurant specializing in serving Asian cuisine and Sushi. The menu is large and diverse and the plates are designed to be shared. China Grill serves their own brand of fusion dishes giving traditional Asian dishes a contemporary twist. It is an incredibly popular restaurant and you should reserve a table in advance.
Café Prima Pasta
414 71st Street
www.primapasta.com
Prima Pasta is committed to serving tasty Italian dishes using only the freshest ingredients. The chef prepares 5 daily specials in addition to the many delicious choices on the menu including antipasto, lasagna, raviolis, salads and an extensive children's menu containing all of the traditional favorites. Prima Pasta also offers an extensive wine list, each bottle carefully selected to accompany specific dishes.
Emeril's
1601 Collins Avenue
www.emerils.com
Emeril's is a popular Miami Beach eatery offering different lunch, brunch and dinner menus in comfortable surroundings. The menus contain a little bit of everything: soups, salads, seafood, ribeye, chicken, various vegetarian dishes and a mouthwatering selection of sides and desserts.
Prime One Twelve
112 Ocean Drive
www.mylesrestaurantgroup.com
Prime One Twelve is a fairly upmarket establishment that offers its clients an elegant dining experience. You can choose from a wide range of appetizers, seafood and meat dishes, salads and delicious daily specials. There is also a private dining area for parties or business meetings. Prime One Twelve also carry an extensive wine list and the waiters are knowledgeable and can advise you on which wine would best accompany your dish.
Big Pink Restaurant
157 Collins Avenue
www.mylesrestaurantgroup.com
Big Pink is a café style restaurant offering a wide choice of international dishes, salads, pizzas, chili, quesadillas, burgers, chicken wings and other American favorites, all served in a relaxed atmosphere and for very reasonable prices. Big Pink also provides free deliveries.
Downtown Miami
Bongos Cuban Café
601 Biscayne Blvd
www.bongoscubancafe.com
Bongos Cuban Café is a restaurant/nightclub owned by Gloria and Emilio Estefan. Located right in the heart of Downtown Miami, this is a very popular restaurant that specializes in Cuban food. The menu is large and varied and the restaurant has a very funky ambience. Over the weekend Bongos turns into the Premier Latino nightclub in Miami, and if you eat in the restaurant before entering the club you escape paying the cover. This is one of the two Bongos Cuban Cafes to be found in Miami, the other is in Miami Beach at 820 Ocean Drive.
Tobacco Road
626 South Miami Avenue
www.tobacco-road.com
Tobacco Road first opened its doors in 1912 and holds the title of being Miami's oldest bar. If you are a health nut, this is not the place for you as Tobacco Road is famous for its greasy burgers and the live blues music that plays while you eat. Tobacco Road has a varied menu including chili bowls, quesadillas, buffalo wings, salads, sandwiches, steaks, chicken and burgers. There are also regular specials nights for the lobster, steak and rib lovers among you. The bar is open until 5am.
Coconut Grove
Bombay Darbar Indian Restaurant
3195 Commodore Plaza
www.bombaydarbarrestaurant.com
Bombay Darbur is a traditional Indian restaurant offering quality food in a beautifully authentic atmosphere. Priding themselves on their excellent customer service they offer dishes such as samosas, pakoras, soups, rice dishes, curries and a variety of chicken and lamb dishes. Bombay Darbur also offer deliveries and catering services for any occasion.
Berries in the Grove
2884 SW 27th Avenue
www.berriesinthegrove.com
Berries in the Grove is a charming restaurant with an eclectic menu that offers something for everyone including starters, salads, wraps, sandwiches, pitas, pizzas, pasta dishes, seafood and paninis. Have you ever had a pizza for dessert? You can here with a choice of delicious, sweet toppings. Berries in the Grove also have weekly specials nights.
Coral Gables
Maroosh Mediterranean Restaurant
233 Valencia Avenue
www.maroosh.com
Maroosh is a wonderfully atmospheric restaurant offering the best of Mediterranean and Middle Eastern cuisine. Their menus contains a wide variety of starters and mains including salads, soups, their special kababs, fish, meat and lamb dishes all with a delicious Mediterranean twist. Children are welcome and there is live entertainment at the weekends including traditional belly dancers.
Havana Harry's Café
4612 South LeJeune Road
Havana Harry's offers a range of Cuban cuisine including tostones, fajitas, salads, sandwiches, burgers, sliders and a huge selection of chicken dishes. The sides are just as tasty with a selection of rice, beans and delicious plantains. The food is served in hearty portions in a laid back atmosphere.
Hialeah, Cutler Bay and Aventura
El Rinconcito De Santa Barbara
2050 West 56th Street, Hialeah
El Rinconcito is a homely little restaurant specializing in Puerto Rican, Latin American and Cuban food and serves an interesting and varied range of dishes. They serve fish, meat and salad dishes but are especially famous for their churrasco and mofango which are amongst some of the best in town. El Rinconcito is child friendly and they also offer a delivery service.
Mangoes Caribbean Bistro
11030 SW 184th Street, Cutler Bay
Mangoes Caribbean Bistro is a friendly, family owned restaurant specializing in Haitian and Creole cooking. They have a mouthwatering menu containing some of the most popular Caribbean dishes. Mangoes are renowned for their good, hearty portion sizes so be careful what you order! They also offer takeaways.
Ocean Prime
19501 Biscayne Boulevard, Aventura
www.ocean-prime.com
Ocean Prime is an upscale, dressy establishment located in Aventura Mall. The menu is a culinary piece of art and takes traditional ingredients and serves them in a way that would impress even the most ardent foodie. You can choose from an array of dishes including sea bass, filet mignon and salmon and they carry over 50 different wines, each of which is the perfect accompaniment to one of the dishes. Ocean Prime has private dining facilities and a full bar.
The Best of the Rest
The Capital Grill
444 Brickell Avenue, Miami
www.thecapitalgrille.com
Capital Grill is one of the most popular steakhouse chains in the US. Alongside the daily specials they offer a range of meat and fish dishes and carry an impressive selection of wines to tempt any palette. The service is excellent and it is an ideal destination for a business dinner or a romantic meal for two.
Hard Rock Cafe
401 Biscayne Blvd, Miami
www.hardrock.com
Hard Rock is renowned the world over for their quality restaurants and the one in Miami is no exception. Located in the Bayside Marketplace, Hard Rock Cafe Miami has a stunning collection of music memorabilia adorning the walls from both local and international superstars. The menu is varied and consists of a range of starters, burgers, sandwiches, salads and desserts. There is also a children's menu. Hard Rock also carry an impressive range of national and international beers and serve an array of colorful cocktails.
Joe's Stone Crabs
11 Washington Avenue, South Beach
http://www.joesstonecrab.com
Joe's Stone Crabs started in 1923 as a beachside seafood stand and was as popular then as it is now. Although famous for their Stone crabs they also have a menu that includes steaks, ribs, chicken and other seafood. Joe's is closed between May and October when stone crabs are out of season. Due to Joe's incredible popularity there is often a long waiting list for a table and if you don't want to wait you can get a takeaway from Joe's takeaway directly next door.
Shorty's BBQ
www.shortys.com
Shorty's has three restaurants in Miami at: 9200 South Dixie Highway, 11575 SW 40th Street and 2255 NW 87th Avenue. They are all as popular as each other and have the same menu that includes ribs and chicken and their own recipe coleslaw and sauces. Shorty's has daily specials and also offers an outside catering service for any amount of people with three options: cook on site, serve on site and pick-up and delivery.
Tropical Chinese
7991 SW 40th Street, Miami
Located in a strip mall, Tropical Chinese specializes in authentic Chinese cuisine. It is a little different from other restaurants – the food is pushed through the restaurant on trolleys for you to choose which plates you want and you are charged accordingly. Tropical Chinese has daily specials and is busiest on Sunday's - dim sum day.
Perricone's Marketplace
15 Southeast 10th Street, Miami
www.perricones.com
Perricone's is a charming little outdoor garden cafe offering classic and modern Italian food. It has a great atmosphere and is busy enough that you should make a reservation in advance. Next to the restaurant is the Italian marketplace where you can purchase a wide range of healthy Italian products and find staff on hand to advice on what ingredients to buy and how to prepare the dishes.
Michy's
6927 Biscayne Blvd, Upper East Side
www.michysmiami.com
Michy's is a modern bistro that specializes in using seasonal ingredients and they source their products from local farmers and fishermen to ensure quality and freshness. The menu offers an eclectic mixture of dishes all designed to be "luxurious comfort food". They have an extensive wine list and also offer half portions for those with a smaller appetite.
Chef Creole Seafood
www.chefcreole.com
Chef Creole can be found in three locations: 200 Northwest 5th Street, 13105 W. Dixie Highway and 20356 NW 2nd Avenue. Chef Creole specializes in the creation of delicious seafood dishes inspired by Bahamian/Creole flavors. The menu is small but inviting and is mainly fish dishes. Chef Creole also offers outside catering facilities and have daily specials.
Dolores but you can call me Lolita.
1000 South Miami Avenue, Miami
www.doloreslolita.com
Dolores but you can call me Lolita operates out of a beautiful building in South Miami Ave. Dolores is the name of the restaurant and is only open in the evenings and Lolita is open day and night. The menus in both are similar and contain a mouthwatering array of dishes. Both have private rooms and outdoor seating areas.